Request Our White Paper


"The Importance of Actual Returns in the Due Diligence Process"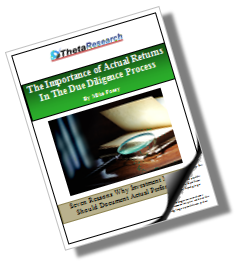 For Investment Managers, the due diligence review is often the first step toward managing money for others. Theta's Mike Posey has drawn from his more than 16 years in evaluating and marketing third-party Investment Managers to offer guidance on the limitations of backtested performance and the need to document actual performance early on.
Download our white paper now to discover Seven Reasons Why Investment Managers Should Document Actual Performance.
This important information is made available to you FREE of charge and there is no obligation. Theta Research will never sell, rent or otherwise make your personal information available to any third party.
About Theta Research, LLC: Since 1999, Theta Research has been tracking investment account data from third-party sources and generating portfolio performance and risk statistics for actively managed accounts. Theta is an independent performance tracking service only and does not offer, promote or sell any investment advice, product or trading platform. Theta serves investment managers across the country and was one of the first to offer such firms the ability to document an actual track record based on actual trading information verified from third-party sources.
Theta Research, LLC • 11719 FM 2244, Ste 200, Austin, TX 78738 • 512.628.5201 • info@thetaresearch.com